Free Study Guide
The term "carry concealed" refers to the practice of concealing a firearm on a person. Concealing a firearm allows you to better defend yourself against an assailant. Carrying concealed also keeps others from noticing your firearm.
There will always be places where local laws prohibit you from going. It is very important to always be aware of your local and state laws. To best understand local laws, visit the state website for the state in which you live or contact a member of your local law enforcement. Here are a few tips if you choose to carry concealed:
Know your carry firearm inside and out. This includes how to clear jams in the case of a semi-automatic.
Know your carry holster intimately. Practice drawing from it often.
Only pull out your firearm if you intend to use it. The general rule is, only pull the trigger if you are in fear of your life and have nowhere to retreat to. Again, check local laws. As another general rule, the less people who know you have the firearm, the better.
Never carry while under the influence of alcohol or any drug (including prescription drugs).
And, of course, know your local laws!
Here are some basic steps to consider when deciding to conceal carry.
Step 1: Be sure to check the laws in your state in regards to carrying a concealed weapon
Throughout the United States there are various regulation authorities, i.e. Department of Justice or Highway Patrol. Determine if you need a license or permit to own a firearm, where you are able to carry it and whether or not you can conceal it. Most states allow concealed carry once you have demonstrated proficiency with your firearm on the shooting range or taken an online instructional course.
Step 2: Select a type firearm to carry
Revolvers are the most easy to use and do not often malfunction, but they are often bulky and difficult to reload in a quickly manner. Watch our video on how to properly clean your revolver.
Semiautomatic pistols are sleeker and therefore easier to manage and carry concealed. However, semiautomatics can be complicated to operate and more prone to malfunction. They are loaded by attaching a magazine. When carrying additional magazines, you can usually reload in seconds. Watch our video on how to properly clean your semiautomatic.
Step 3: Choose a holster that secures your gun and allows you to conceal it on your body
Try several holsters to find the one that best suits your needs. You may choose to have a variety of holsters so you can carry concealed depending on the type of clothing you wear. There are various ways to carry concealed. Some choose to carry a small pistol in their pocket. Some prefer a shoulder holster as it allows the carriage of a larger frame pistol. The choice is yours.
The most popular type of holster for carrying concealed is the inside waistband (IWB) holster. An IWB holster attaches to your belt with the holster partially or completely hidden between your pants and your body. An IWB holster may be worn in a number of positions, from the small of the back to the front of the hip.
Shoulder holsters allow you to carry your firearm under one arm. It does; however, require that you wear a jacket in order to conceal your weapon.
Other holsters you should consider include: pocket holsters, which allow you to carry a gun safely in your front pocket; ankle holsters, which can be concealed under pant legs; belly bands, which enable you to carry your gun under your shirt.
Step 4: Practice drawing your gun
You should familiarize yourself with your gun and be able to safely and effectively remove it from the holster and re-holster it. Do not practice doing this with a loaded weapon to be sure it won't accidentally fire.
Step 5: Refer to state laws to determine where you can legally carry concealed
Be prepared to leave your weapon behind when necessary. Be sure that your gun is always safely stored with a lock whenever you leave it behind. This will help to prevent accidents or theft. State or federal laws, in some cases, may ban you from carrying concealed in certain places, like schools or bars. However, many states allow private businesses to post signs banning handguns on their premises to make it clear as to whether or not you can conceal carry in their establishment.
Step 6: Learn which states have reciprocity agreements with yours
Often times, neighboring states will recognize a concealed carry permit issued by your state, but there are important exceptions. Never assume that you will always be able to conceal carry your weapon in other states. Always be sure to, first, consult the state that you are entering and ask if they will honor your particular license.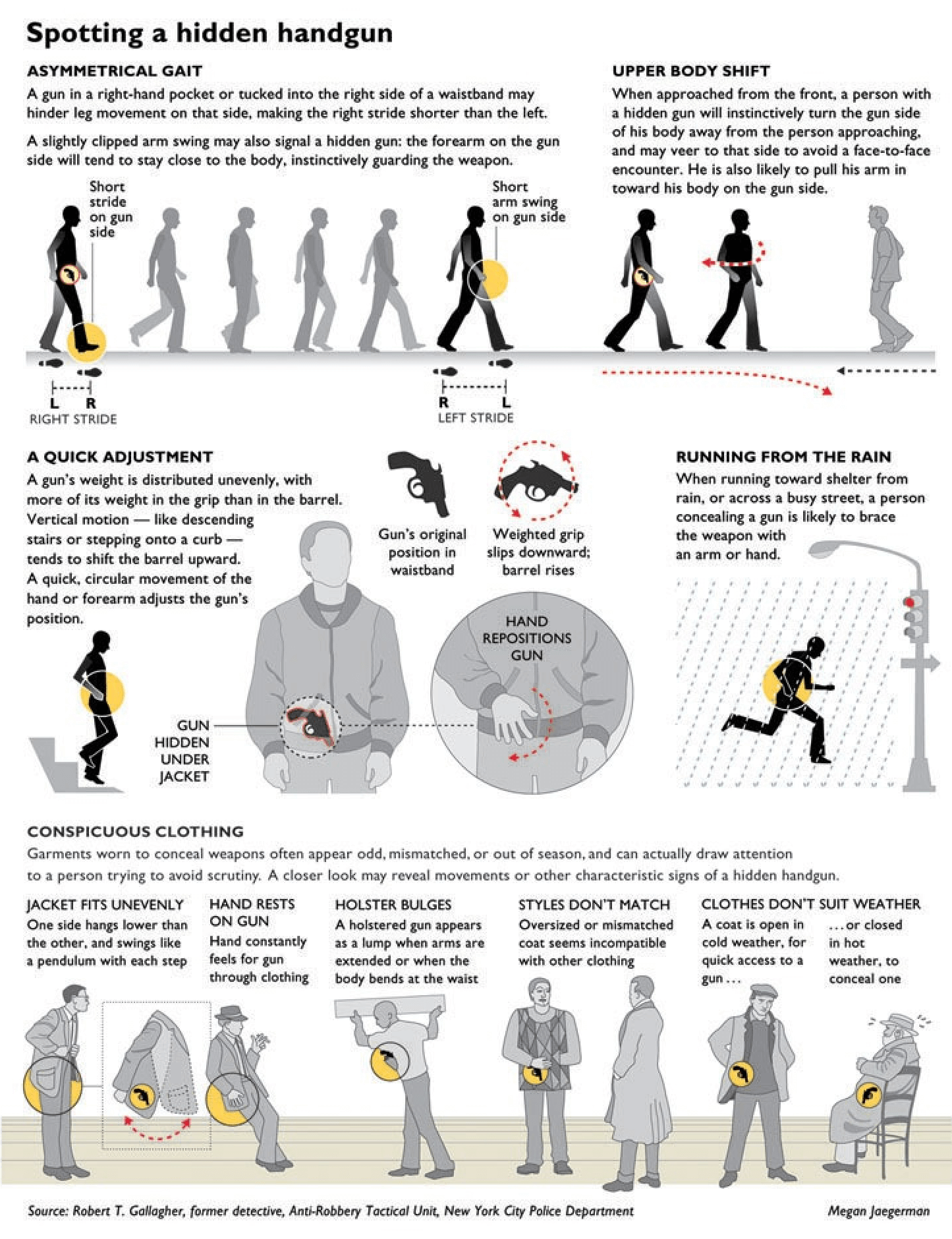 The photographic depiction above was designed by a Law Enforcement Officer in New York City where it is generally illegal to carry a firearm in a concealed manner. It was originally designed to help train new recruits to spot illegal concealed handguns, but is just as useful to train legal carriers to keep their firearms hidden.
What people ask about our concealed carry course
Which states recognize this course?

The Carry Academy course meets the requirements for many different states, most of which through the reciprocity of a VA nonresident concealed handgun permit. See the state list.

How does The Carry Academy fulfill the necessary training requirements in so many different states?

The majority of these states allow you to carry a concealed weapon by obtaining an Virginia Nonesident Concealed Handgun Permit. If you live in Iowa, Oregon or Virginia; you can apply for a Residents Permit as this course fulfills their necessary training requirements.

What is the process for obtaining my Virginia resident and nonresident concealed handgun permit?

Virginia Resident Concealed Handgun Permits are issued by the circuit court of the county or city in which the applicant resides. You can obtain your application form by visiting the Resident Concealed Handgun Permits page on the Virginia State Police website. Non-residents will need to visit the Nonresident Concealed Handgun Permits page on the Virginia State Police website.

Am I guaranteed CCW permit approval if I live in one of your approved states?

Unfortunately, we are not able to make such a claim. Even though many states honor the reciprocity laws of Virginia, we have found that some jurisdictions do not abide by these laws. We recommend, for all those interested, to first contact your local municipality or sheriff's department and explain that you will be taking an online course and applying for a VA nonresidents concealed handgun permit and ask if they will accept, prior to taking our online course.

How do I receive my certificate?

Your certificate will appear on your screen, in your My Account area, upon passing the test. You may print or save it for later printing. An additional copy will also be emailed to you for your convenience. If you do not receive an email, be sure to check your Junk Mail folder. If marked as spam, mark it as "Not Spam" to help ensure safe delivery of any future emails from The Carry Academy.

What is reciprocity?

Many jurisdictions have established arrangements where they recognize or honor permits or licenses issued by other jurisdictions with comparable standards, for instance in regard to marriage or driver's licenses. This is known as Reciprocity and is based on U.S. Constitution "full faith and credit" provision. Due to the nature of gun politics, reciprocity in regard to weapons carry permits or licenses has been controversial.

What is a concealed carry permit?

A concealed carry permit is the practice of carrying a handgun or other weapon in public in a concealed manner, either on one's person or in close proximity.

Where do I find resident application links for my state?

Please refer to the State Laws page.
What is the test like? Am I likely to pass?

The test is 20 questions that are multiple choice and true/false. You must answer 15 questions, correctly, to pass. Although 99% of our students pass the first time, if you for some reason do not pass, you may go back and review the material and take it again at no additional charge.

Do I not need to shoot a gun to qualify for a concealed carry permit?

No. Virginia, Iowa and Oregon law do not mandate live fire for meeting the training requirements for a concealed carry permit.

Do I need to watch the video all at once?

No, although we recommend watching the video in one sitting, it can be paused and resumed at a later time. Please note; however, the session may expire after a certain amount of time. If that happens, you will need to restart the video when you log back in. We recommend watching the video in one sitting.

Are there places where you cannot conceal carry?

While generally a concealed carry permit allows the permit holder to carry a concealed weapon in public, a state may restrict carry of a firearm including a permitted concealed weapon while in or on certain properties, facilities or types of businesses that are otherwise open to the public. These areas vary by state (except for the first item below; Federal offices are subject to superseding Federal law) and can include State and Federal goverment facilities, political events, educational institutions, hospitals, churches and others.

I am having issues with the video loading or it keeps stopping, what should I do?

There are numerous factors that could cause the video to load or play improperly. Make sure that you are using a modern web browser. If problems persist, trying using a different web browser or device.

What training requirements are needed in order to obtain a CCW?

Some states require concealed carry applicants to certify their proficiency with a firearm through some type of training or instruction. Certain training courses developed by the National Rifle Association that combine classroom and live-fire instruction typically meet most state training requirements. Some states recognize prior military or police service as meeting training requirements.

How much is the Firearms Safety Training Course?

Our course is currently available for only $49.99. You can register here.

Where do I find more information about my states laws including reciprocity/traveling information?

Please refer to the State Laws page.
What are the training requirements of Virginia?

Virginia recognizes eight specific training options to prove competency in handgun handling, ranging from DD214 for honorably discharged military veterans, to certification from law enforcement training, to firearms training conducted by a state or NRA certified firearms instructor including electronic, video, or on-line courses. While any one of the eight listed options will be considered adequate proof, individual circuit courts may recognize other training options.

What is the process for obtaining my Virginia, Iowa or Oregon residents permit?

Please refer to the State Laws page.

Is this class accepted for both resident and non-resident permit?

Yes. Please refer to the State Laws page.

Will this class be accepted for the renewal of my permit (for states where this is necessary)?

Yes.

Is my credit card information safe?

Yes, credit card information is processed and then safely discarded. Our site is also guarded behind a firewall and 128-bit SSL, for your protection.

Is my information confidential?

Yes, our privacy policy states that all your information is kept confidential and is never sold to a third party agency.

How long do I have to watch video after signing up?

Once you have signed up for the course, you have 30 days to watch the video. If video is not watched within 30 days, we charge a $9.99 fee to reset the expiration.

What is your policy on refunds?

Refunds will only be issued in the event that you are unable to access the Resources through no fault of your own (i.e., due to an outage or other non-functionality of The Carry Academy websites) for a period forty-eight (48) hours commencing with the time that you register and pay for access to the Resources. No refunds will be issued once you receive a Certificate of Completion.